This is the first time I've attended Agile on the Beach and I feel it was a very successful event.  There were three tracks, Software Craftsmanship, Teams and Business.  I almost exclusively attended the Software Craftsmanship track and a couple from the Teams track.
The event kicked off with a keynote from Dan North.  He explained his view on mastery – a progression from apprentice and journeyman with the defining characteristics of each.  Dan ties his talk together with a story of his own journey to the mastery of a particularly difficult origami fold called the Jackstone – a fold he attempted as a child, but failed to master until decades later.
Jim Barrett had the first slot in the Software Craftsmanship track and he was unfortunately beset by some technical difficulties.  After the initial hiccups he dived into giving an overview of Clojure.  I haven't done anything in the language before, nor have I tried anything in Lisp which it is based upon and so was interested in learning of its power.  Unfortunately I feel he spent too much time on the syntax.  I personally don't get much out of watching people code simple snippets on-screen.  I realise this isn't very constructive feedback.  Maybe it would have worked better as a workshop with a Koans approach or with some direct comparisons between Clojure and Java code to show the advantages and differences.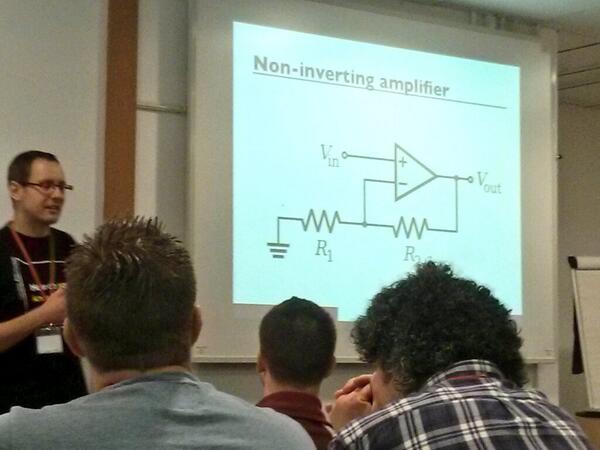 (negative) feedback
Marcin Floryan was up next with a presentation focussed on feedback and how important it is to collect, review and act upon relevant feedback you can gather about your system.  An enjoyable presentation with a dash of humour.
Lunch was a variety of sandwiches, nothing particularly special, but nothing bad either – vegetarian options were well represented and there was plenty available to ensure you got your fill.  I know I'm commenting on food, which may seem inconsequential compared to the presentation content, but I feel it's an important part of keeping up the stamina and morale of all attendees and speakers.
After filling our bellies James Lewis had the difficult after lunch slot but he managed to keep us interested with an overview of how systems built as microservices can create highly reactive and flexible ecosystems.  This is essentially how the architecture is designed at 7digital – small, focussed internal HTTP based services supplying functionality for their bounded contexts.  We've found it to be highly successful and it was good to see it being presented.
I took the stage next, hiding my nervousness by cajoling the audience into a Mexican Wave, a silly thing to do, but it made the distance between us feel smaller.  I believe my presentation went well and I fielded many questions, some of which I am now finding to be repeated each time I give the presentation and as such I must find ways to incorporate the answers into my slides.  I've got answers to some previous questions asked listed on a blog post here.
I'm afraid that I didn't attend the final session as I was too amped after my talk (apologies to Phil Nash) – I'm still getting accustomed to speaking and I find that it can knock me sideways once the adrenaline wears off.  I hung around in the communal area, grabbed some coffee and wrote up some notes for the day.
The day was finished up with a few Lightening Talks of which the highlight was a method for visualising problems and obstacles, which I believe the person called The Mercado Technique, but I must have heard wrong because I can't find any sources of this on Google.  If anyone managed to get the proper name, or the name of the person who presented it, please let me know. Update: @AnthonySteele informs me that it is The Mikado Method and @EwanMilne let me know that @facilligent had presented it.
The day wrapped up with a Beach Party which included a free pint of the local ale and a hog roast (veg burger option too).  The British weather let us down a little and it was slightly cold and windy, but nevertheless the sunset was beautiful and the conversations were interesting.  A good first day.
Slides and videos from the event are being added here.